Hi there, it's me again! I come again with a bold post, but honest, to new and old SEO enthusiasts! In this post, we will destroy a few myths and get a few more haters than usual. Personally, I am not a fan of what Google employees tweet to the public, because from my point of view, in 95% of the cases their tweets are not meant to be for a normal freelancer or a small business site, but to giants which don't care too much anyway, as they rank organically and get loads of backlinks via their powerful ORMs. However, here is the tweet by Gary Illyes AKA "House Elf and Chief of Sunshine and Happiness at Google."
BRAINSTORMING NEWS: GOOGLE IS WATCHING YOU!!1
Joking, or not, but that's another discussion. According to Wikipedia reports, Alphabet Inc (Google) have no more than 114,096 (Q3 2019) employees, how hard is to believe they have a big section of spying Facebook groups or forums related to SEO? Let's not forget what Googles main empire is, a search engine, the biggest ever, and is here to stay! They will do whatever is necessary to protect their monopoly over the market by any methods. Wouldn`t you do the same? I  would!
This being said "I guess" they have a big department of 007 nerds style which browse daily up and down SEO forums, Facebook groups, Telegram groups and whatever else where big communities are involved.
AND THE TWEET HIT THE WALL
Yeah because we wouldn't ever go to Facebook groups and forums specializing on link selling. Ever!

— Gary 鯨理/경리 Illyes (@methode) May 18, 2020
Just go on any community/marketplace of SEO enthusiast and you will see loads of replies as: 
SHOW ME SAMPLES OR NEVER HAPPENED!
Do f00llow links with high DA for only 99.99
Or the worst scenario: Selling links as a pack
BUY THIS MUCH WOW 10 LINKS FOR 997 USD (997, because all YouTube gurus end their sales pitch in 7)
Don't lie! I am reading your mind now, you ask as well! That's OK, we all did!
Now think about it: How hard if to track those "juicy, amazing, skyrocket links" you just paid for last month? Pretty easy eh? With the same method as yours, a Google employee goes to that specific seller and asks him the same basic thing: SHOW ME BLOODY SAMPLES! or I WANT TO BUY YOUR AMAZING PACK OF LINKS … and you are done, for real!
Small friendly advice: Next time, when you see someone selling general links to anybody who is asking … run Forest, run!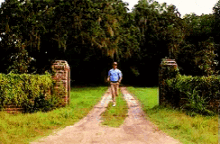 Until next time,
Eddie
References
Featured image by Jamie Haughton on Unsplash